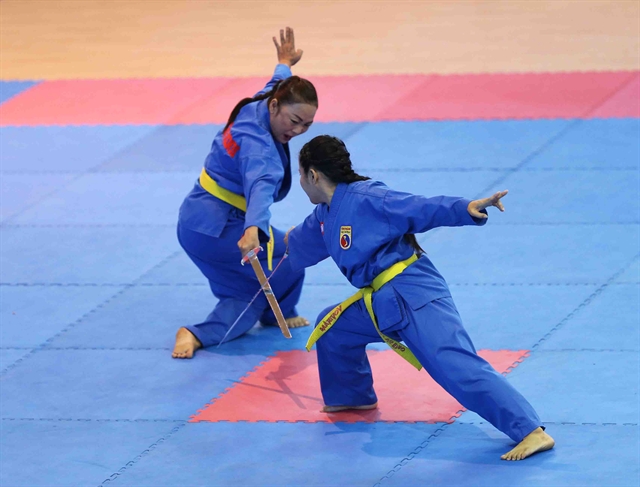 Vovinam, a Vietnamese martial art, returns in style to the SEA Games
The 31st Southeast Asian Games are a historic step for vovinam (Vietnamese traditional martial arts) to assert itself and show more of its strength as it takes place on its soil.
After nine years of absence since the SEA Games in 2013, vovinam is back.
Vovinam made its Games debut in 2011 in Indonesia with 14 categories. Four countries were in competition, Indonesia, Cambodia, Laos and Vietnam.
Vietnam won five golds, seven silvers and two bronzes to top the team standings, while Indonesia finished second with five golds, one silver and eight bronzes .
During the 27th SEA Games held in Myanmar in 2013, vovinam was held for a second time with the participation of five countries, Myanmar, Indonesia, Cambodia, Laos and Vietnam. In this event, Vietnam was in the lead with six gold medals.
However, vovinam was absent from the next three Games for various reasons.
At the SEA Games in 2019, the Philippines as hosts initially announced the list of 56 sports including vovinam with four sets of medals. But at the last moment, this martial art could not take place at these Games.
Vovinam's return to the SEA Games is good news for Vietnam's martial arts – demonstrating recognition from international friends and influence in the region. This is an important step for Vietnamese sport to become a sport in Southeast Asia.
Nguyen Binh Dinh, Deputy Secretary General of Vietnam Federation of Vovinam, said: "It was a disappointment for Vovinam when it was absent from the last three Games. It meant that the good influence that Vietnamese martial arts had accumulated at previous Games collapsed, forcing us to start over.
"The journey to bring Vietnamese martial arts to a good reputation in the region is already arduous, let alone Asian Games or world events. However, we are still determined to make vovinam strong again," Dinh added.
"The return of vovinam can be seen as a great opportunity for vovinam to continue to grow in Southeast Asia and around the world. We hope that vovinam will be maintained as a traditional sport appearing at the next Games.
At this year's SEA Games, vovinam will have 15 sets of medals: six combat categories and nine divisions for performance. Vietnamese martial artists aim to win five gold medals.
According to Ngo Ba Huy, the team leader of vovinam at the 31st SEA Games, the athletes are in good shape and physical condition, and eager to compete.
"We always have to keep the players safe so they don't get injured as the competition approaches," Huy said.
YamadHiputra I Nyoman, Secretary General of Vovinam Federation of South East Asia and Secretary General of Vovinam Federation of Indonesia, said: "The return of Vovinam to the 31 Games is a joy for those who love this art. Vietnamese martial artist.
"After many years of ups and downs, especially when he was absent in other editions of the Games, the leaders of vovinam in the world, continents and regions have always maintained the organization of international tournaments. This has played an important role in maintaining vovinam training and competition in Asian countries, especially in Southeast Asia.
The vovinam competitions will take place from May 18 to 22 at Soc Son Gymnasium with the participation of seven countries: Cambodia, Indonesia, Philippines, Singapore, Laos, Thailand and the host Vietnam
The 32nd SEA Games will be held in Cambodia in 2023, and vovinam is expected to be included.
RELATED STORIES
Get the latest sports news straight to your inbox
Read more
Subscribe to INQUIRER PLUS to access The Philippine Daily Inquirer and over 70 titles, share up to 5 gadgets, listen to the news, download as early as 4am and share articles on social media. Call 896 6000.
For comments, complaints or inquiries, contact us.