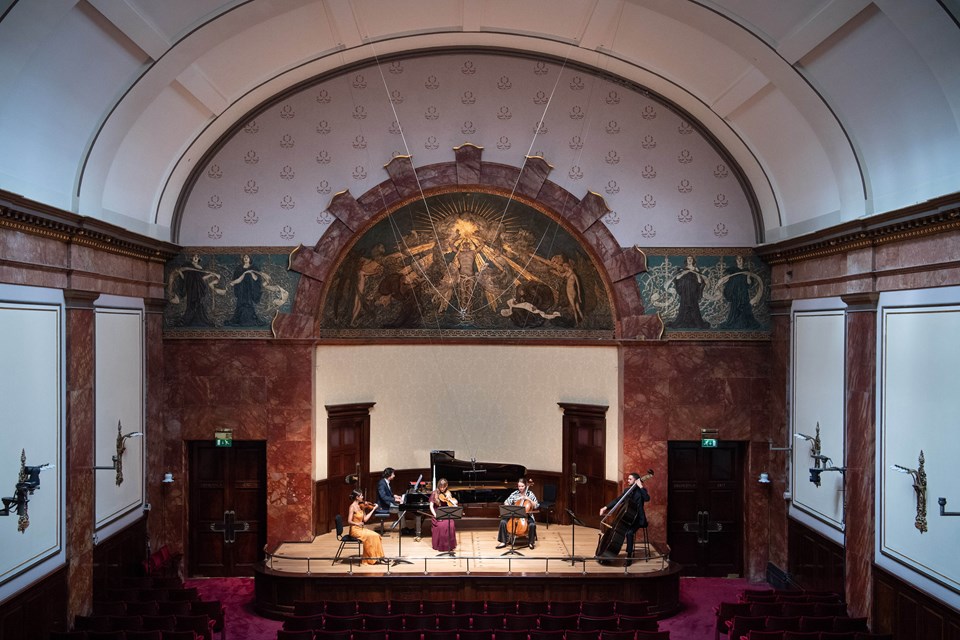 The Wigmore Hall International String Quartet Competition opens tomorrow

Find out more about the prestigious triennial competition – and how you can watch it
The 2022 edition of the prestigious Wigmore Hall International String Quartet Competition opens tomorrow. The first preliminary round will take place at London's Guildhall School of Music and Drama before the event moves to London's famous chamber music venue later in the week.
Over the first two days (held at the Guildhall), ensembles will present a recital program featuring the cornerstones of the repertoire – a late Mozart quartet paired with a major quartet from the 20th century. On Thursday, they will then present their second recital program at Wigmore Hall, featuring a Haydn quartet alongside Nine Fragments – String Quartet No. 4 by Sally Beamish, which will be broadcast live: click here. These first two rounds are free (and you can also hear Beamish and the Carducci Quartet explore the composer's work at the Guildhall School of Music and Drama on Wednesday afternoons: details here).
Saturday will see the semi-finals – tickets for this round can be bought here – in which at least six quartets selected by the jury will perform one of their two choices of 19th century repertoire. At the end of the evening, the jury will select at least three quartets to move on to the Finale, which will take place on Sunday evening, and where the remaining ensembles will each play one of their two choice Beethoven quartets. The concert will be followed by the awards ceremony around 9 p.m. For tickets to the final, go here.
The prestigious triennial competition has its origins in 1979, when the then unknown Takács Quartet triumphed at the event held in Portsmouth. Held by the Wigmore Hall since 2010, and open to ensembles made up of musicians under the age of 35, it allows quartets to demonstrate their musicality across the breadth of the genre's repertoire, from classical to contemporary.
Gábor Takács-Nagy, one of the founding members of the Takács Quartet, expressed how valuable the competition was for the group: "It gave us confidence and we saw that all the work was worth it… the first prize changed our life… You kind of believe in yourself more, and if you believe in what you're doing, you're probably stronger. Some people say music is not sport, music is not for competitions. But on the other hand, I know that preparing for a competition requires enormous dedication and motivates the young quartets to work hard.
For this week Gramophone Podcast editor James Jolly was joined by Wigmore Hall manager John Gilhooly and Doric Quartet violist Hélène Clément to learn more about the competition and also life in a top quartet . You can listen below.