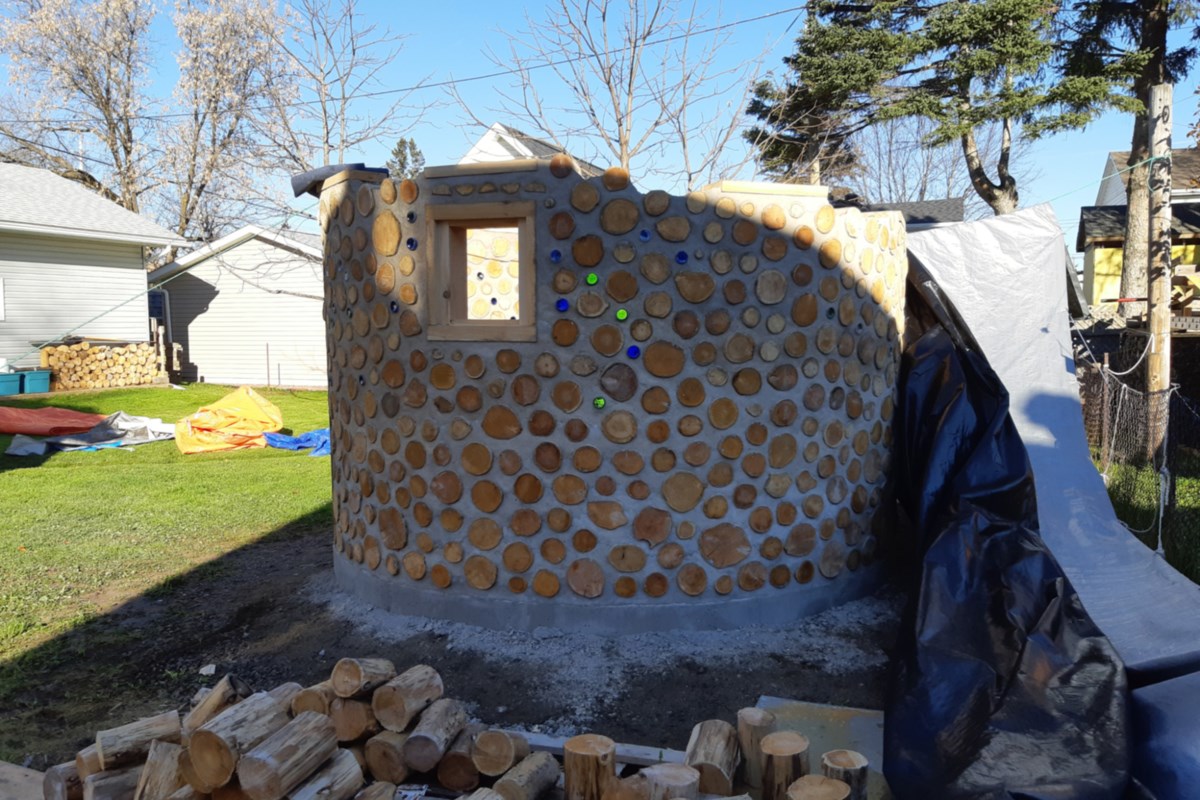 Saultite blows the dust off the old barn building technique to create something new (3 photos)
After hundreds of hours of elbow grease, Nick Armstrong's wooden sauna is in the running for first place in the international DIY competition
In Sault Ste. Marie Man took a traditional building technique used to build barns back then and built something entirely new with it.
Nick Armstrong says he's spent hundreds of hours over the past year building himself an entirely hand-built backyard sauna using cordwood masonry, an ancient construction method that uses cut logs known as cordwood and held together with a mixture of cement and mortar.
"From what I understand it was used where there wasn't necessarily rock available, so they used sand and old lime mortar to build the walls against a rock foundation. traditional," he said.
The idea for the ropewood sauna came to Armstrong after reading a 2020 SooToday article about a family fundraising campaign to restore a historic firewood barn in Sault Ste. Married.
"It got me interested in this type of construction technique and since then I started researching the style of construction. I was inspired," he said.
Armstrong began planning its construction and sourcing materials around this time last year. He procured sand, hydrated lime and Portland cement from local suppliers in the Sault and transported cedars from St. Joseph's Island.
He also needed to get his hands on some sawdust to supplement his old-fashioned mortar recipe.
"You need a very specific type of sawdust consistency and it has to be a softwood sawdust, so I bought some sawdust from some local Mennonites in the Desbarats area ", said Armstrong.
He would eventually go to beer and liquor stores in order to get the colored glass for the walls, which involved cutting the bottles in half and fusing them together.
"I didn't buy what I wanted to consume, I bought based on the color of the bottle," Armstrong said. "You'll see a lot of blue bottles, and it's actually a French beer – I would never have tried this beer if it was in a blue bottle, I wouldn't have chosen it otherwise," he said. .
The roof will also have its own unique qualities when completed.
"The roof itself will actually be a dirt roof, so it will be a living roof with grass and flowers and anything not planted on it," Armstrong said.
To put it into perspective, says Armstrong, the full cost of his cordwood sauna wouldn't cost as much as a comparable sauna kit. But the work was intensive, with Armstrong spending many nights under a tarp in his garden with a headlamp strapped to him.
"I have 500 to 600 hours putting the walls up," Armstrong said. "It doesn't include all the other work that went into preparing all the materials – cutting, peeling the wood, drying the wood, stacking the wood, moving the wood, finding all the other materials.
"Labour is the biggest cost of the project.
Armstrong's ropewood sauna was entered into the DIY Hero, an international competition with a grand prize of $25,000 and the chance to be featured in a two-page infomercial in Create a Magazine.
"I would like to spread the word there. It was very fun. It's been a long, challenging, and rewarding project, and I think it's cool to show people what's possible if you just put elbow grease and time into something," Armstrong said. "I think that would be pretty cool for someone from Sault Ste. Marie to be recognized in one of these world competitions.
Votes for Armstrong's Ropewood Sauna can be placed on the DIY Hero website.