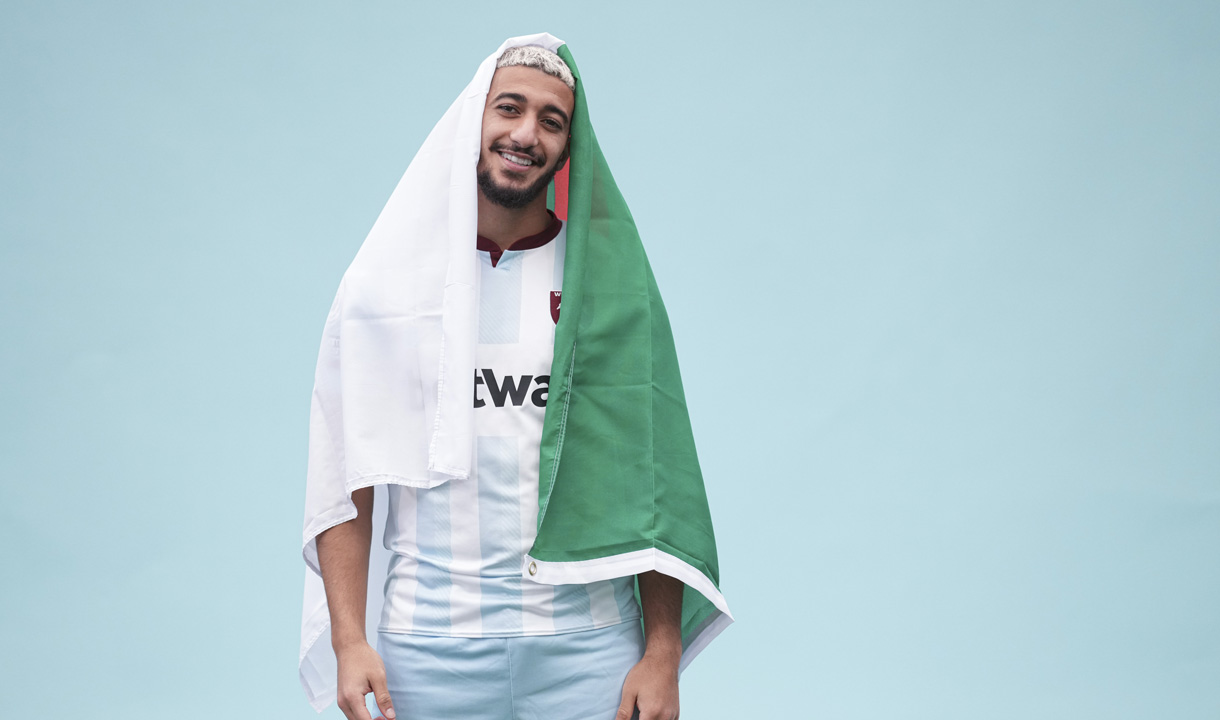 Saïd Benrahma: CAN is important to me
At any time Said Benrahma taking the field, whether for West Ham United or for his national team, he has millions of his fellow Algerians backing him.
Since Benrahma's arrival in east London in October 2020, the profile of the Hammers has grown in the North African country, where football is the most popular sport and the Desert Warriors are a source of great pride.
The growing influence of the attacking midfielder on the West Ham squad and his impressive performances in the Premier League have led the 26-year-old to become an increasingly important member of the Algerian squad and to be called up for the 2022 CAF Africa Cup of Nations final, which kicked off in Cameroon last weekend.
Defending champions and two-time winners will be confident to defend their title – Betway ranks Algeria second among favorites behind Senegal – with an exciting and experienced squad led by Manchester City winger Riyad Mahrez and also including former West Ham Galatasaray midfielder Sofiane Feghouli.
With eight goals and four assists under his belt in Claret and Blue this season, Benrahma will head to his first major tournament full of confidence, and hope to play his part in his country's group stage matches with Sierra Leone, the Equatorial Guinea and Ivory Coast. , as he told West Ham TV before he left.
For all Algerians, football is very special, and even more so when it is the national team

Said Benrahma
"CAN is important to me, playing for your country is important," confirmed the No.22, who missed out on winning the 2019 tournament with an injury. "I'm looking forward to my first international competition and hope to be able to play.
"First of all, we are a family, we have a good team and we all get along, so [winning] CAN has given us this strength and I hope it will remain so, because we have a bright future ahead of us.
"We must continue. We won one [AFCON], so why not a second now? But hey, we have to give everything, we have the right team, but we respect all the opponents. We know what we can do, so hopefully everything goes well.
"We want to win, we don't go there to do numbers… we want to win! We want a third star, but then we have to respect all the teams.
"It's a competition so anything can happen, but we have to keep our momentum, continue what we started and finish well. We will be ready, that's for sure.
While growing up in France and having spent his entire professional career in Europe, Benrahma is proud of his African heritage – he was born in the coastal town of Aïn Témouchent in northwestern Algeria – and is keen to make his compatriots proud at the delayed CAN, which was originally due to be played in January 2021 before being delayed for a year due to the COVID pandemic.
"For all Algerians, football is very special, and even more so when it is the national team," he confirmed. "When the national team plays, all of Algeria talks about it. We have a passion for football that I can't describe, it's just like that …
"If you go to a cafe in Algeria, they only talk about football, not any other sport. It's a real passion, and it's just wonderful. It's football, and it's amazing.
Of course, Benrahma's call means he will be away from West Ham for several weeks, but he asked the Claret and Blue Army to understand why the CAN is so important to him, his country and his continent, and to support him. and Algeria.
"I always wanted to be part of international competitions, I play football for that, so I ask them to support me and to support Algeria, even if I am not there," he said.
"I have to answer the call and I really want to do it for the nation and the national team. I'm really proud of it, it will be a first for me.
"I hope they will support me and give me strength, because there are a lot of West Ham fans. The support is really huge, so I hope they give me all the strength they give me. if I was in West Ham.