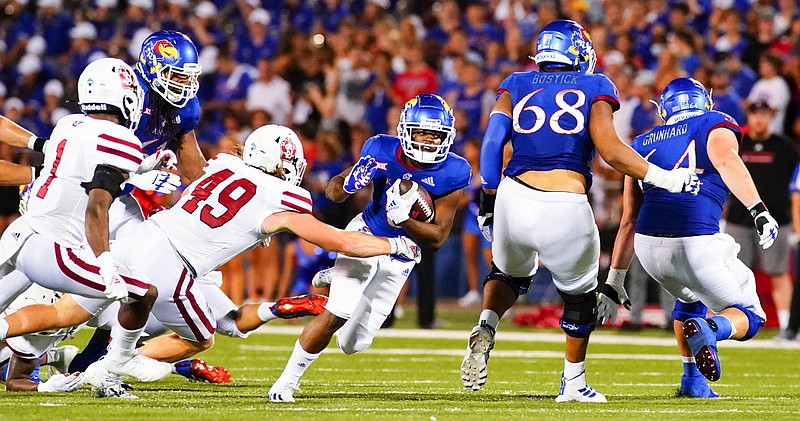 Reports: RB Velton Gardner quits KU football via transfer portal
After three games in his junior season, running back Velton Gardner is ready to leave the Kansas football program.
According to various reports on Monday, including from Rivals and 247 Sports, Gardner, the Jayhawks' turn-around for the past three weeks, listed his name on the NCAA transfer portal.
Although Gardner entered the season as KU's No.1 running back, the Dallas junior had yet to produce much in the backfield. Last weekend, the 5-foot-9, 195-pound veteran carried the ball just twice over 4 yards in the Jayhawks' home loss to Baylor. That brought Gardner's season totals to 56 yards on 29 rushing attempts (1.9 yards per carry) without a touchdown.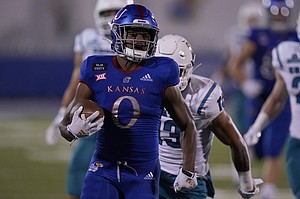 Associated Press
Having played just three games for KU, Gardner could potentially use 2021 as a red shirt season and join another schedule next year with two years of eligibility remaining.
With Gardner on the verge of exiting, true running back Devin Neal is likely to become the new starter. Neal, the former Lawrence High star, was already the only KU running back with a rushed touchdown in the first three weeks. Neal enters KU's game at Duke this Saturday (3 p.m., ACC Network) with 74 rushing yards on 22 carries (3.4 yards per attempt) – nearly all of which in the last two games.
While Gardner had yet to show off the flash in 2021 that he sometimes did in his first two seasons with the program, his departure marks another blow in KU's running back room.
The position projected as one of the highlights of the reconstruction program in the first season of Lance Leipold. But sophomore Daniel Hishaw Jr. suffered a late-season injury in the preseason and Gardner, KU's top rusher of 2020 (4.5 yards per carry, two touchdowns in six appearances), is moving on. .
That leaves Neal, rookie Amauri Pesek-Hickson in a red shirt and now former quarterback and reserve receiver Torry Locklin as the Jayhawks' top running backs.
Pesek-Hickson missed Game 1 with injury and has five carries for 13 yards in his two appearances. Locklin has 10 carries for 19 yards.
This is the third year in a row that one of KU football's top running backs has left the program this season. In 2019, Khalil Herbert left after four games, eventually transferring to Virginia Tech. Last year, Pooka Williams retired from the season after four games and eventually made it to the 2021 NFL Draft.
Herbert, after running for 1,183 yards at Virginia Tech, became a sixth-round pick in the Chicago Draft. He is currently a reserve running back with the Bears.
Williams was not drafted, but he remains with the Cincinnati Bengals on their practice squad.