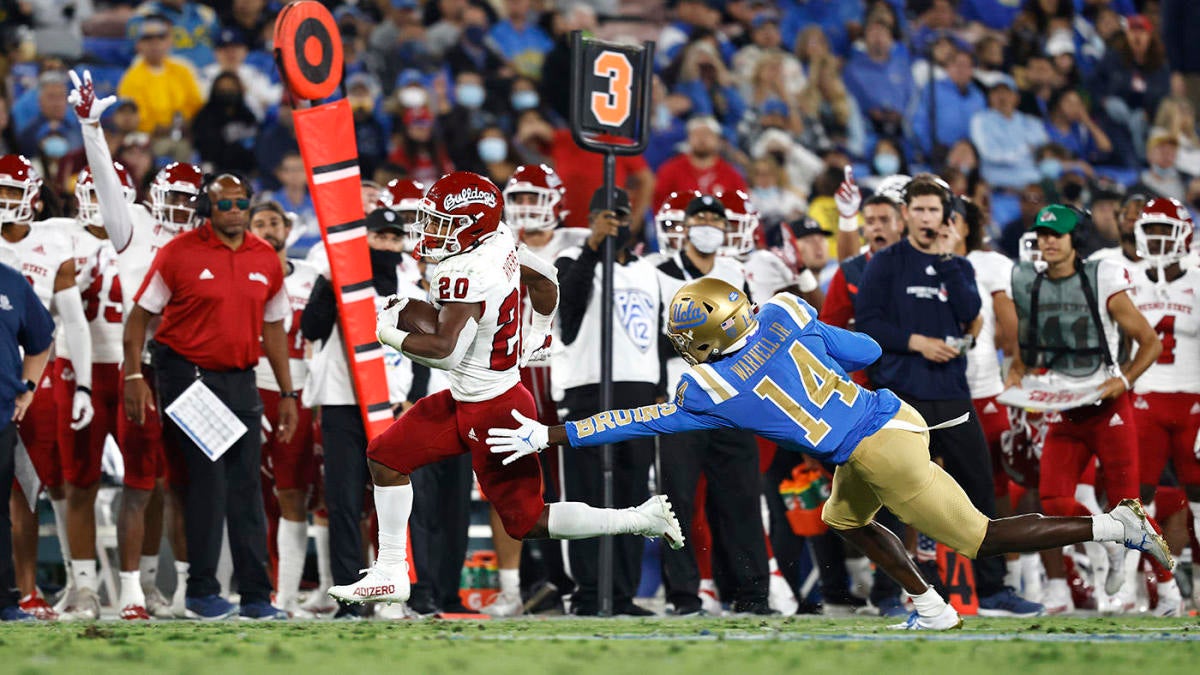 College football scores, standings, highlights: UCLA stunned by Fresno State, BYU beats Arizona State
Week three of the college football season brought another action packed Saturday. From the midday window to the late night games that stretched into the early hours of Sunday morning, there were plenty of intriguing clashes. Some have brought clarity to the college football landscape, while others have produced more questions than answers. A total of 23 Top 25 AP squads were in action throughout the day.
One of the first highlights was the renewal of an old Big 12 rivalry between the No. 3 Oklahoma and Nebraska, which marked another moment of survival and lead for the Sooners. The No.8 Cincinnati also found himself in a road fight in Indiana while two ACC-ranked teams – No.15 Virginia Tech and No.24 MIami – lost to Michigan State and West Virginia, respectively. in non-conference battles. The mid-afternoon slate was also highlighted by the # 1 thriller from Alabama to # 11 Florida on CBS.
Finally, the prime-time slot made the crowd happy as the Penn State No.10 edged out No.22 Auburn in a White Out game that fans have been waiting for. To top off the night, the No.23 BYU scored another impressive victory over a Pac-12 opponent edging out No.19 from Arizona State, while the No.13 from UCLA fell to Fresno. State in a classic shootout after midnight.
CBS Sports was there every step of the way to update you with the latest scores, highlights and storylines throughout the day.
College football scores, schedule: Week 3
No. 3 Oklahoma 23, Nebraska 16 – Take-out meals, essentials
# 8 Cincinnati 38, Indiana 24 – Recap
Michigan State 38, # 24 Miami 17 – Recap
West Virginia 27, # 15 Virginia Tech 21 – Recap
No. 12 Notre Dame 27, Purdue 13 – Recap
N ° 1 Alabama 31, N ° 11 Florida 29 Take-out meals, essentials
No. 6 Clemson 14, Georgia Tech 8 – Recap
# 9 Ohio State 41, Tulsa 20 – Recap
No. 2 Georgia 40, South Carolina 13 – Recap
# 10 Penn State 28, # 22 Auburn 20 – Take-out meals, essentials
N ° 17 Ole Miss 61, Tulane 21 – Summary
Oklahoma State 21, Boise State 20 – Recap
No. 23 BYU 27, No. 19 Arizona State 17 – Recap
Fresno State 40, No. 13 UCLA 37 – Recap
Check out the full Week 3 dashboard
Discover them …