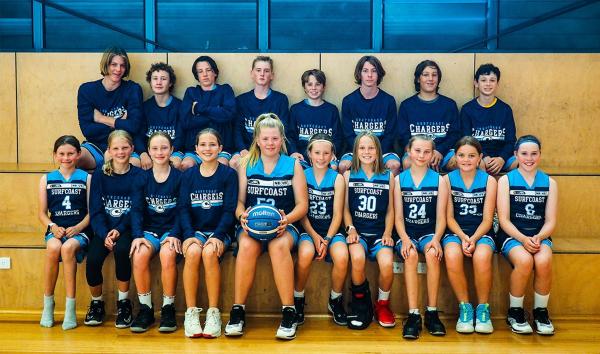 Chargers set their sights on the big leagues
Ash bolt
Junior basketballers on the Surf Coast will have more to yearn for, with the Surfcoast Basketball Association showcasing senior representative teams for the season ahead.
The Surfcoast Chargers will join the statewide Big V basketball league for the 2022 season, with men's and women's teams joining other Geelong Bellarine and Corio Bay-based teams in the competition.
Surfcoast Basketball Association President David Scott said it was a logical step for the growing association to feature teams of senior representatives.
"The national men's and women's competitions went well so it made sense," he said.
"It was finally a decision of the board of directors to continue the paths of our juniors to continue their basketball.
"We have a record number of juniors, we've seen an increase of around 20 percent over last year, so we want to make sure they have the opportunity to continue playing basketball at a high level. as they grow older.
"Now with the senior teams they will have something to aim for and can continue to play locally."
The Chargers' senior teams will play their first Big V games in March of next year.
Scott said the association had organized trials for the teams and had generated a lot of interest.
"The quality and number of the men's selections has been very good," he said.
"There have been some good numbers for women too, but we encourage anyone who might be interested to come and try.
"There are a lot of good players who live around the Surf Coast so we will have good representation on the pitch."
The new teams crown a period of strong growth for the association, which has only existed for three years.
"Basketball on the Surf Coast was run by the council until three years ago and then it came to us," he said.
"We wanted to provide the Surf Coast with the opportunity to play basketball and provide that exercise option and promote health and wellness.
"The national program is going well, we have about 170 junior teams this year and we just launched our first Under-eight competition last week.
"We are also increasing our junior representative teams – we had three teams in the Victorian Junior Basketball League and this year it will increase to around nine.
"And we also have the new $ 13.5 million stadium in February, so it's been a busy time for the association and we've been on our toes."
Scott said population growth in the region and COVID have increased appetite for local basketball.
"Obviously the population is growing pretty quickly this way and with COVID people want to go out and do things, so we're seeing a lot of interest," he said.
"I think this year's Olympics also helped rekindle interest in basketball and having the new stadium is a big help as well.
"We anticipate that there will continue to be additional growth, so we are looking at how we are going to expand competition and other programs that we may offer, such as three-way and mixed competitions.
"We just want to see the sport continue to develop on the Surf Coast."